Top 10 Oktoberfest Tips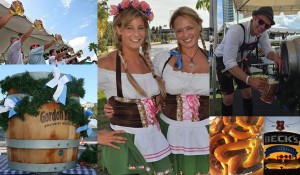 1) Keep your head up and know now the rules of "Schulz." You'll thank us later.
2) Oktoberfest weighs in at between 7-8% alcohol, a little more than your average American lager. Start easy, maybe even start with a "Radler" to quench your thirst. A mix of pale ale and lemon-lime soda.
3) Remember to show up thirsty. At Oktoberfest Tampa the beers are served two ways; 16oz cups and 1 Liter "Mass Beirs". SCHNELL DEUTSCH (Mass = Measure)
4) Know your way around the beers. There's the traditional "Helles" (pilsner), "Dunkle" (stouts or dark ales), "Märzen" (Oktoberfest amber) and "Weissbier" (wheat beers).
5) Prost! This is how German's say cheers. Generally the entire table drinks together, clinking their drinks and always making eye contact as it is considered rude to do otherwise.
6) When you cheers with your neighbors it's traditional to connect with the bottom of your glasses. Splashing at the top is for pirates, arrrr!
7) Look after your server, we're not talking about your girlfriend here. Beer servers are at the top of the food chain in the Oktoberfest tents so it is in your best interest to be nice to them and tip generously. It might seem a bit steep to start with, but you can be sure that if you look after your beer wench she'll look after you.
8) You should arrive before noon if you want the best chance of getting a table for the day. Unless you've reserved a table. Otherwise it's standing room only.
9) If you're going to learn one song this Oktoberfest make sure it's "Ein Prosit." Every 20 minutes or so the tent breaks and sings:
Ein Prosit, ein Prosit
Der Gemütlichkeit
Ein Prosit, ein Prosit
Der Gemütlichkeit
After the band plays this song, everyone raises their glasses and says: "Eins, Zwei, Drei, Gsuffa!" – meaning "one, two, three, drink!". You must sing this song, and drink after each song. It's sorta the law.
10) With exception to VIP tables, all tables are shared. Just remember to ask before taking an empty seat.
11) (Bonus – Thanks Charles!) Oktoberfest Tampa will entertain thousands of people along the Tampa Riverwalk, downtown Tampa, over the weekend.  So try and learn something about your neighbor. There's a good chance you'll dancing with them on a table by the end of the night.
OKTOBERFEST TAMPA IS GOOD.